The global floating photovoltaic (FPV) market is expected to maintain steady growth, while Asia Pacific continues to lead demand.
Asia Pacific leads the demand for floating solar. Photo: DNV
Land scarcity and rising land costs for ground-mounted PV projects continue to drive demand, so the global FPV industry is expected to maintain steady growth. According to research firm Wood Mackenzie, annual new FPV capacity is expected to exceed the 6 GW threshold by 2031.
Fifteen countries are expected to have more than 500 MW of cumulative FPV capacity installed by 2031, and China, India and Indonesia - which together account for nearly 70 percent of total FPV demand in 2022 - are expected to remain at the forefront.
WoodMac expects FPV to hold a steady market share compared to overall global solar demand and to grow at a compound annual growth rate of 15 percent over the 2022-31 period.
Speaking at the SNEC PV Conference & Exhibition (Shanghai) this week, Ting Yu, a consultant with Wood Mackenzie, said, "While FPV development costs are 20-50% higher than equivalent ground-mounted projects, increased developer competitiveness and the EPC model can help the industry reduce costs."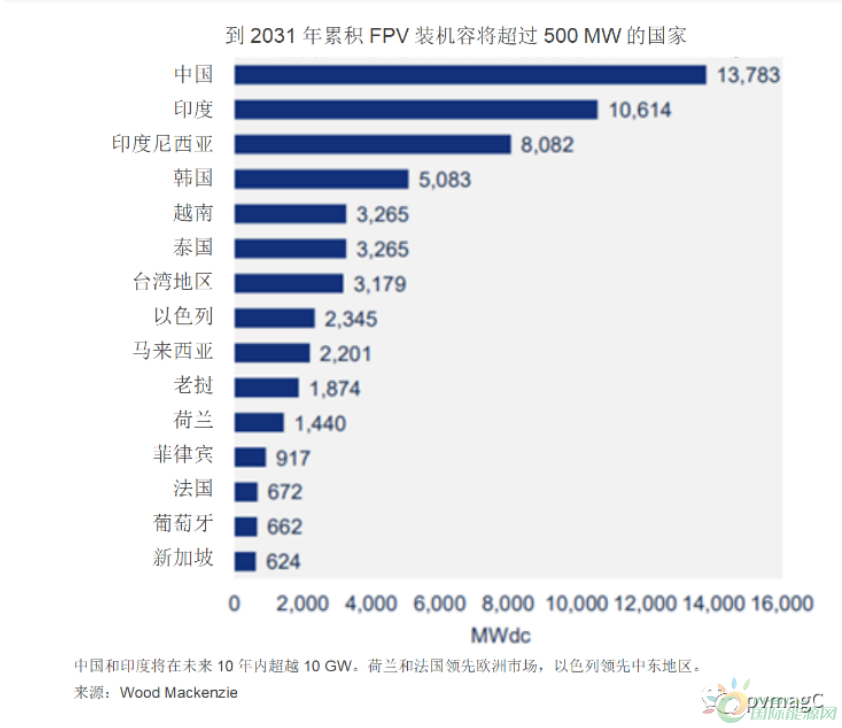 The Asia-Pacific market will continue to be at the forefront of demand. in 2022, the region will have approximately 3 GW of floating solar projects, accounting for more than 90 percent of the global FPV market. China's cumulative FPV capacity through 2031 is expected to exceed 13 GW and grow at a compound annual growth rate of 12 percent over the next 10 years.
China will continue to be a leader in installed floating solar capacity," Yu said. The country has been able to use decommissioned submerged coal mines to develop floating solar."
With nearly 150 MW of FPV capacity, Europe is the second-largest region in terms of demand. with 32% of the European FPV market in 2022, the Netherlands is the largest developer of FPV projects in Europe, followed by France.
Outside of the Asia-Pacific region, the Netherlands has the largest FPV project - namely the 41.4 MW Sellingen floating solar power park - which was connected to the grid in 2021. But WoodMac predicts that growth in the Dutch market will slow after 2025, "because by then the major sites will be developed."
For the U.S., floating solar is estimated to grow at a compound annual growth rate of about 13 percent through 2031, with regions such as California, Florida and New Jersey, where solar demand is high but land costs are expensive, driving the trend.
Yu said, "Overall, the floating solar industry is costly in all market segments due to supply chain constraints and generally rising module costs and other soft costs in 2022."
For example, rising high-density polyethylene (HDPE) prices are a major driver of high costs for FPV structural perimeter systems (SBOS). But WoodMac expects costs to fall as the supply chain expands.
Data from S&P Global indicates that 3.4 GW of floating PV capacity has been installed globally by the end of 2021. The market intelligence firm forecasts global demand for floating PV to reach 14 GW by 2026, and says about 92 percent of that installed capacity is likely to be built in the Asia-Pacific region, driven by incentives and installation targets.