At the U.S. Energy Storage Summit in March, the deployment of large-scale battery storage systems in the Texas market and whether they are at risk of market saturation was a big topic.
The fastgrowing Texas energy storage market naturally dominated the conversation at the twoday conference in Austin. With just over 2GW of total installed battery storage systems currently in operation in the state, that number will nearly quadruple to just under 8GW by the end of 2023, and the impact on revenue growth in the Texas energy storage market is clear.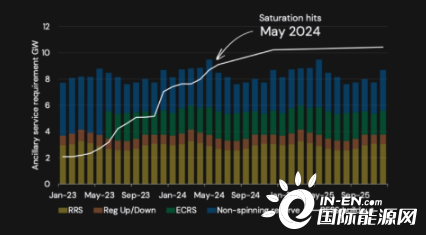 Modo Energy's presentation slides at the Energy Storage Summit show when it expects the Texas ancillary services market to be saturated
Quentin Draper-Scrimshire, CEO of UK-based battery market analyst Modo Energy, said in a speech at the conference: "By next summer, the Texas battery storage market will be saturated because the cumulative installed capacity of battery storage systems will exceed the installed capacity of ancillary service contracts, which means the battery storage industry will need to think differently and find other sources of revenue." The company is expanding its service to the US market and plans to start in Texas.
Other manufacturers' representatives and spokespeople interviewed by industry media offered a different view. "We know that there is often a timeline for building independently deployed battery storage systems before the Texas storage market becomes saturated, so we are focused on deploying these projects," said Alex Krass, vice president of business development at Available Power, discussing how energy storage developers can mitigate this risk strategy.
The idea is that with so many independently deployed battery storage projects now waiting to be developed, the Texas energy storage market is going to become saturated, and in the next few years, some of the energy storage developers in the state market are going to see a steep decline in ancillary services revenue, making it difficult for energy storage systems to generate revenue."
Nick Dazzo, head of trading at Spearmint Energ, which recently acquired 900MW energy storage projects in the Texas Electric Reliability Commission (ERCOT) service area that were being planned for deployment, strongly disagrees with this view.
"As more renewable energy electricity is added to the power system, this projection does not appear to take into account increased or continued demand for these services. By 2030, Texas will have deployed more solar power facilities, and once more intermittent renewable energy is added to the power system, the need for ancillary services will continue. Therefore, a static comparison of deployed battery storage system installed capacity with today's demand for ancillary services does not give the full picture."
Ravi Manghani, director of strategy and market analysis at LS Energy Solutions, an energy storage system developer, agrees that the Texas battery storage market will become saturated, but only temporarily.
"My own view of the storage market in Texas is that there will be a saturation point, but I don't think it will be an indefinite saturation," he said. I think it will reach saturation next year, but the penetration rate of renewable energy is also increasing, so the market for ancillary services will be opened up again and there will be a return to revenue streams. I think the battery storage systems that have been deployed have made up for the lack of power, because until a few years ago there was not a lot of storage deployed in Texas."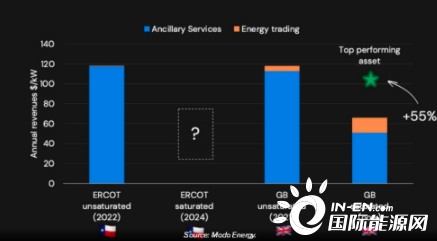 Modo Energy's DraperScrimshire compares developments in the Texas battery storage market to those in the UK. It points out that while the installed capacity of battery storage systems is growing and revenues are down compared to 2021, the best-performing systems are likely to remain at the same revenue level.