European solar power purchase Agreement (PPA) prices have fallen 4.7% to $79.93 per megawatt hour (73.20 euros per megawatt hour) over a 12.month period, according to LevelTen Energy's first quarter 2023 PPA price index report. This is the first time in several years that the solar PPA price in Europe has dropped.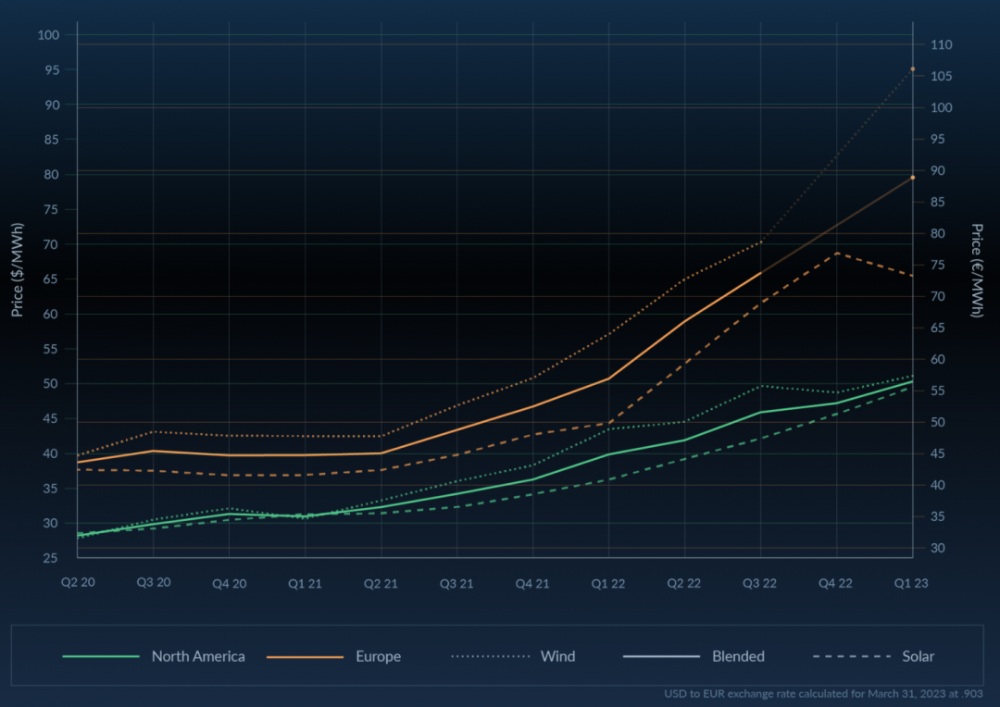 Solar prices fell in most European markets except Italy
Portugal's solar PPA price increased 9.8% in the first quarter of 2023 and 32.2% year-on-year. But according to LevelTen, which tracks the price of green energy in 20 European countries, most European markets have seen a modest fall in solar bills.
According to the analysis of the report, the main reasons for the decline of solar PPA price in many European countries include three aspects: first, the production capacity of manufacturers, the tight international freight situation and the difficulties of supply chain management caused by the COVID-19 outbreak have been alleviated; Second, the gradual decline of inflation rate increases the predictability of cost, thus reducing the uncertainty factor of PPA price; Third, natural gas and wholesale prices of power engineering prices fell to enhance the power engineering real estate to reduce PPA price pressure.
European wind power PPA prices have rebounded
In the first quarter of 2023, wind power prices in the LevelTen power market picked up again, with projects in France, the UK and Estonia offering higher prices than those in Germany and Spain, according to the survey.
LevelTen analyzed that the key reason for the increase in PPA prices in European wind power is that the cost increases and the approval obstacles faced by wind property developers continue to increase prices by 35% in the last six months. In addition, land shortages and resistance from local communities are key factors holding back the development of onshore wind power in Europe.
About LevelTen Energy
The LevelTen service platform is the world's largest online hub for renewable resource customers, merchants, consultants, asset owners and economists. The site includes the LevelTen Energy Marketplace, which offers access to more than 4,500 power purchase agreement prices in 28 countries in North America and Europe. At the same time, LevelTen Energy gives the industry, mobile software, automation technology analysis and expertise needed to speed up the cleanup of energy transactions. Its LevelTen Asset Marketplace brings together more than 800 developers and users of new renewable projects, while providing them with the code.converters and expertise they need to purchase, sell, and finance equity properties in North America and Europe.