On April 18th, the European Parliament approved the deeper reforms, approving the agreement with Member States on key legislation for "Fit.for.55" by the end of 2022. Three bills, including the carbon Boundary Adjustment Mechanism (CBAM), have been voted through the European Parliament's network of legislators.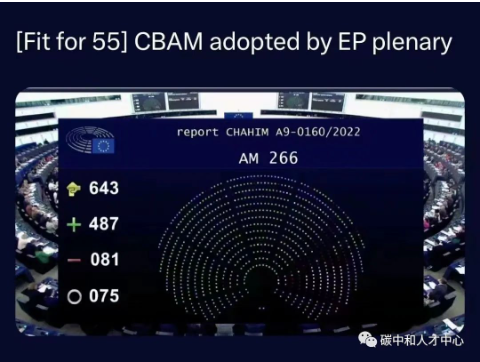 By 487 votes in favour, 81 against and 75 abstentions, the European Parliament has approved rules for a new carbon border Adjustment mechanism (CBAM) designed to encourage nonEU countries to raise their ambitions. To ensure that EU countries and the global climate industry are not undermined by the shift of manufacturing from EU countries to larger countries with less radical policies. The main products included in CBAM are iron, steel, concrete, aluminum, organic fertilizer, power engineering, radon gas and its indirect emission in special cases. Buyers of such products must pay the difference between the carbon price charged by the country where they are produced and the price of carbon allowances under the EU's emissions trading system. The CBAM will be phased in from 2026 to 2034, at the same pace as the European trading System phasing out completely free quotas.
In addition, the reform and innovation of the carbon emissions trading system was supported by 413 votes, 167 votes against and 57 abstentions. It raises the ambition of a trading system that must cut emissions per unit of greenhouse gases covered by it by 62% below 2005 levels by 2030. It also phased out completely free allowances for businesses from 2026 to 2034, and created a separate new trading system (ETS II) for transport fuel and buildings that will put a price on their greenhousegas emissions by 2027 (or 2028 if energy demand is unusually high). The European Parliament also voted for the first time to include greenhouse gas emissions from the maritime sector in the capandtrade system (500 votes to 131, with 11 abstentions) and to amend the emissions trading system for airlines (463 votes to 117, with 64 abstentions). This will gradually withdraw the free quota for airline units by 2026 to promote the use of sustainable aviation fuel.
The other is an agreement with Member States to create the EU National Climate Equity Fund for Social Development (SCF) by 2026, which was approved by 521 votes to 75, with 43 abstentions, to ensure that climate change development is equitable and socially pluralistic. In particular, disadvantaged domestic and micro.enterprise transport users affected by energy supply and delivery shortages will benefit. Once complete and timely, the SCF would come partly from up to €65 billion of assets auctioned under ETS II quotas, with an additional 25% coming from member States' contributions (which could total £86.7 billion).
The text of the bill will now have to be approved by the European Council before it is published in the Official Journal of the European Union and will take effect 20 days after publication.