Solidoxide water electrolysis (SOEC) is being seen as one of the key technologies for hydrogen production by electrolysis due to its high efficiency and low cost of raw materials. On the one hand, the sales market has been released many times to purchase SOEC hydrogen production commodity orders; On the other hand, more enterprises and institutions of higher learning began to lay out SOEC runway, some have already released demonstration projects, floor type production lines.
The released order information refers to China Southern Power Grid, State Grid, China General Nuclear Power Group and other relevant units, as well as some steel chemical companies; The planning organizations of companies and institutions of higher learning include: Beijing Antiproton Driving Force, Zhejiang Hydrobang Hightech, Beijing Sewete, Wuhan Huakofusai New Energy Technology, Tsinghua Institute of Nuclear Technology and New Energy, etc.
SOEC Runway, which has long felt like a product development and exploration phase, seems to be suddenly buzzing. Beijing Antiproton Driving Force, a company dedicated to hydrogen energy SOEC.SOFC and green hydrogen engineering projects, the director of the company is also deeply impressed: "In 2021, SOEC and SOFC orders were roughly 50/50, but by 2022, SOEC has increased significantly, and companies are getting almost all of their revenue from SOEC and feel that SOEC programs are a little more than they need."
The Development Trend of SOEC "Starts from an uphill Position"
SOEC is a fullsolid organic chemical electrolytic equipment that can immediately convert heat source and electromagnetic energy into mechanical energy in natural materials in high temperature environment in China (detailed basic principle is shown in the figure below). It is one of the three key technical solutions for hydrogen production by electrolytic water (in addition, ALK hydrogen production and PEM hydrogen production). It has the characteristics of high energy conversion efficiency and no use of precious metal catalyst.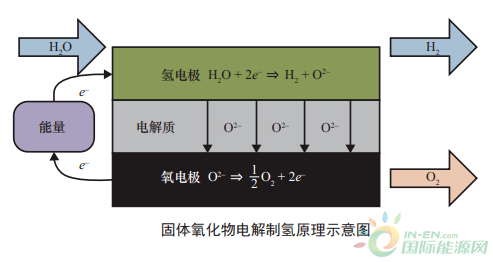 At present, our country implements green and low carbon development behavior, vigorously develops electrolytic water hydrogen production, SOEC as a high efficiency green hydrogen production technology, in recent years has gradually been paid attention to, deeply attracted many enterprises and high court organizations to carry out scientific research and reasonable distribution. Including but not limited to: Beijing Antiproton Driving Force, Beijing City Bright, Zhejiang Province Hydrogen Bang, Shanghai Hydrogen Cheng High-tech, Wuhanhua Kesai New Energy Technology, Zhejiang Zhentai Power Energy, China Shipbuilding Industry Corporation 718 Research Office, Chinese Academy of Sciences Ningbo Materials Technology and Engineering Research Office, etc.
In 2021, the antiproton driving force signed the 2kWSOEC hydrogen production system software with China General Nuclear Power Group and successfully used SOEC in the hydrogen production demonstration project of nuclear power plant. In 2022, the 5kWSOEC hydrogen production system software, also referred to as the "Mass Innovation Project" of the State Grid, is used for userside electrolytic hydrogen production. By the end of this year, at least 5 sets of SOEC hydrogen production system software demonstration projects will be put into use. In terms of industrial development, this company has long established a production line of SOEC photovoltaic cells and single reactor in Qingdao, with a design capacity of 1MW/ year in phase I and 10MW/ year in phase II.
Beijing Siwei, has already developed 3kW SOEC system software, 10kW SOEC system software has completed assembly, and will be tested at the end of March. At the patent level, the company has obtained 6 national invention patents in the aspects of singlecharge battery, reactor, system software and so on. At the level of new projects, it has already planned and created new demonstration projects of SOEC hydrogen production and coelectrolytic carbon dioxide application in Beijing, Zhangjiakou, Hebei and Inner Mongolia.
Zhejiang H2Bank, an enterprise incubated by Ningbo Institute of Materials, Chinese Academy of Sciences in 2019, is committed to the design and system development of SOECSOFC reactor. The production and manufacturing test line of MW rechargeable battery and reactor has been built, and the 5kW electrolytic reactor has been successfully developed. Several demonstrations have been organized and carried out in central enterprises, and export sales have been completed. The 5kWCO2 electrolytic synthetic fuel integrated system has been withdrawn, and the software of 20kW class SOEC electrolytic water hydrogen production system is being developed.
Wuhan Huakofusai new energy technology, developed 15×15c square meters of single rechargeable battery SOEC reactor efficient operation time has been more than 1040 hours. In addition, Ningbo Sofuren, Zhejiang Zhentai Power Energy and other companies in SOEC also have progress. Tsinghua University explored the high efficiency of SOEC electrolysis, electrode polarization and negative electrode lifting. Dalian Institute of Organic Chemistry, Chinese Academy of Sciences, University of Science and Technology of China and South China Institute of Technology also carried out relevant research on the technical scheme of SOEC.
The SOEC racers have been through the early grind and are now floating. Under their influence, the road of SOEC industry development has gradually emerged the light of life.
At the sales market end, companies promoting the project of hydrogen production by electrolytic water also gradually pay attention to SOEC hydrogen production, and began to release the order information requirements. "In 2021, the order information of SOEC and SOFC in our company was basically equal to each other, but in 2022, the SOEC project increased significantly, and the annual corporate income basically came from SOEC. I felt that the SOEC project was a little more than enough." Beijing antiproton driving force responsible person told high - industrial hydrogen power.
Most of this order information comes from China General Nuclear Power Group, China National Petroleum Group, State Grid, Steel Chemical Plant, etc. These companies often use SOEC new projects, the person in charge analysis, the most reason is that, in the current environment of energy structure transformation, the SOEC electrolytic water hydrogen production and primary energy overcapacity power project closely combined, not only can achieve sufficient electricity conversion and storage, but also can produce clean fuel, which can greatly improve the efficiency of their specialized projects, Meet the needs of the current development of these companies.
In addition, compared with PEM and partial alkali electrolytic water hydrogen production, SOEC is also the only one with negative carbon emission technology, which can dissolve carbon dioxide in the reflection, and has unique advantages in chemical plants, steel and other fields.
Market Potential of SOEC
From the information content released above, it is clear that the development trend of hydrogen production in China's SOEC has been on a small scale demonstration link, which is already a step forward compared with the past "in the experimental development stage". The development trend of SOEC hydrogen production in China has already "broken the ice".
What are the application areas of SOEC? How big is the market potential estimated?
In China, SOEC has shown certain development prospects in such industries as electrolytic hydrogen production at the user side, centralized green electricity treatment, electrolytic hydrogen production at the power generation side, hydrogen metallurgy, chemical waste gas production to syngas, and nuclear power plants.
Taking centralized green power processing and electrolytic hydrogen production at the power generation side as examples, China has already set the goal of completing 1200GW of wind power generation and photovoltaic installations by 2030. However, the operation and centralized processing of the 1200GW wind power generation and photovoltaic power generation is undoubtedly a big challenge. Only wind power generation, mainly in Shandong, Jiangsu, Zhejiang, Fujian, Guangdong, Hainan and other coastal provinces, the total number of offshore wind turbines is estimated to be about 25,000 in 2030. Assuming that 20% of this energy must be stored through hydrogen production, it matches the SOEC market capacity of 400 billion yuan.
Another study found that when SOEC uses external ultra-low temperature and continuous high temperature pyrogen, it can increase energy consumption level by 20% to 45%. China has a large number of steel, chemical plants and other waste heat recovery and nuclear power plants, is the best scenario of external pyrogen and SOEC fusion to produce low-cost green hydrogen, the market capacity of 100 billion.
In addition, SOEC can recycle and convert carbon dioxide to achieve "negative carbon emission", which can be used in energy chemical waste, thermal power waste and other chemical plant scenarios.
Both the regional market for green hydrogen production and the incremental market for hydrogen energy due to the reduction of carbon emissions are promising industries for SOEC to develop. SOEC relative to other technical solutions, the competitive ability is also very obvious: first, SOEC key components for solid oxide structure ceramic and stainless steel plate, has strong mechanical stability and environmental adaptability, and can not use precious metal catalyst, raw material cost is cheap; Secondly, the modular assembly method can make it flexibly adjust the hydrogen production scale according to the actual situation for a variety of places; Third, the hydrogen produced is so pure that the system can operate reversibly and can be used not only to produce hydrogen but also to generate electricity.
At the current policy end, from the overall planning to the local government, we are encouraging the rapid development of SOEC. In March last year, the National Development and Reform Commission and the National Energy Administration jointly issued the Medium - and Long-Term Plan for the Development of the Hydrogen Energy Industry (2021-2035), which clearly pointed out that the rational allocation of hydrogen production equipment, the promotion of solid oxide electrolytic cell hydrogen production, photooxygen catalytic water hydrogen production, surface hydrogen production, nuclear technology continuous high temperature hydrogen production and other projects.
In May of the same year, the 2022 application guide for the key project of "Hydrogen Energy Technology" of the Ministry of Science and Technology clearly stated that the solid-oxide electrolytic steam hydrogen production system and electrolytic reactor technology (relevant and important technical specialty) were one of the supported projects. Basic content of scientific research: For solid oxide electrolytic water vapor hydrogen production (SOEC) technical productization problem, scientific research on high power solid oxide electrolytic hydrogen production reactor and information system integration technology. Solid oxide electrolytic steam hydrogen production system software, output power ≥50 KW.
In August, the Hydrogen Energy Industry Development Plan of Liaoning Province (2021-2025) stressed that In the long term (2026-2035), emphasis should be put on the research and development and production of AEL hydrogen production equipment, ion exchange membrane (PEM) hydrogen production equipment, continuous high temperature solid oxide hydroelectricity (SOEC) hydrogen production equipment and other hydrogen production related equipment and important materials and parts, so as to improve the manufacturing capacity of core equipment and further reduce the cost of hydrogen production.
Obstacles and difficulties in SOEC development
SOEC will have great application value in the future under the linkage development of the whole industrial chain, sales market incentives and policy support. But for now, it has to be said that it has encountered some obstacles in its exploration.
Specifically, SOEC product design and development cost high, high risk. The key lies in the development of important materials. Operating in a high.temperature environment gives SOEC advantages in terms of thermal and kinetic models, but it also makes higher requirements for material properties. How to have strong heat and chemical resistance at high temperature, linear expansion coefficient pairing between different components, stable phase state and molecular structure, with a certain level of strength heat shock resistance, while ensuring that raw materials are easy to manufacture and process, and the cost is as low as possible, is the world's difficulty.
Secondly, the current SOEC raw material management system is designed by the manufacturer alone. At the present stage, each customized SOEC commodity support parts are different, and the raw materials for production and manufacturing supporting facilities are also different. Now the market has not produced a perfect supply chain management, which makes if there is a problem in the development and design of raw materials at a certain stage in the solid oxide electrolytic cell, the overall development and design may face the risk of failure.
In addition, in the intelligent auxiliary system BOP supply, at present there is no professional supply enterprise, all the goods to SOEC company to order. Due to the attribution to custom, the cost of BOP continues to rise, even in the cost composition and the reactor holds a 1:1 ratio.
"The technical requirements of BOP are not very high. Generally, we can submit the design drawing to the manufacturer for production. The cost of this piece is often very high, fundamentally speaking, because the amount is particularly small, and there is no industrialization requirements. This is a problem for many SOEC companies today, and will likely be a problem for the entire SOEC industry in the early stages of development." A SOEC industry enterprise related responsible person said.
Based on China, looking around the international, at present, the technical strength of our company SOEC and foreign economic development level, whether it is cost control, or production and manufacturing supply capacity, there are some differences. For example, BLOOM ENERGY (BE), whose 1kWSOEC reactor cost is already less than 10,000 yuan (rmb), while the domestic price is still 30,000 to 50,000 yuan. Topsoe has built the world's largest electrolytic cell processing plant (SOEC) in Haining, the Netherlands. The new plant will be put into operation in 2024, with an annual capacity of 500MW and an expansion of 5 gigawatts, while the domestic capacity is far from this scale.
Overall, China's SOEC hydrogen production technology is still very high, the cost needs to be further reduced, and the industrial development process also needs to be accelerated. There is still a long way to go before the application of SOEC hydrogen production technology has a bright and broad road ahead.