On February 21, Xiaoliang Automobile Intelligent Manufacturing Industrial Base located in Guangzhou was busy. A large distributed photovoltaic plant on the roof of the building is particularly impressive when viewed from above. After the plant was put into operation, it became one of the examples of the automobile industry's development trend of new manufacturing energy replacement, energy saving and emission reduction. At the present stage, many leading enterprises in the automobile industry, such as Chery Automobile, Nextev, Xiaoliang, Shell Oil, mainland Germany Horse Brand, Three Ring and so on, have applied solar new energy industrial photovoltaic power station planning scheme.
As the world's largest automobile production and consumption country, in the process of carbon neutralization of Chinese automobile industry, it is very important for the smooth completion of carbon emission reduction, carbon neutralization. At present, the automobile industry chain continues to accelerate the transformation of green development and accelerate the process of carbon reduction. In the urgent need to expand the practical path of carbon reduction today, including the new energy development and research companies such as Sun New energy, through the field of zero carbon solutions, to bring "favorable" for the industry companies.
"Double carbon" promotes the application of the industry
The overall goal of "dual carbon" has been promoted on schedule, and the low-carbon development of industries including automobiles has played a crucial role.
Experts in the field pointed out that improving the efficiency of electricity and energy utilization, pollution control and clean energy replacement are the routes for the automobile industry to complete the overall goal of "double carbon", and the upper, middle and lower reaches of the automobile industry chain must make joint efforts to achieve the low-carbon development of the industry chain. Among them, clean energy replacement includes the substitution of electric power and energy by cars, as well as the substitution of clean energy in the manufacturing and operation stages of the automobile industry chain.
With the implementation of the overall goal of "double carbon", enterprises in the field have gradually reached a consensus on the concept of green development. Many brand companies in the industry have determined the "carbon neutral" schedule one after another, showing their confidence in accelerating the progress of double carbon. On June 28, 2021, Great Wall Motor first announced the company's "carbon neutral" schedule and announced that it would complete "carbon neutral" in 2045, among which, the first zero-carbon processing plant of Great Wall Motor would be completed in 2023. Before this, about a dozen overseas automobile companies have given very clear "carbon reduction" overall goal or "carbon neutral" schedule.
On June 7, 2022, Dongfeng Liuqi also released its own "carbon neutral" schedule, announcing that the latest year is 2040 to complete the carbon neutral operation, and the latest year is 2050 to achieve carbon neutral customer value. In addition, according to statistics, many automobile enterprises, such as FAW Group, Shanghai Automotive Group and Jixiang Automobile, have put forward clear carbon emission reduction and carbon neutral schedule.
In September 2022, according to official channels, the Ministry of Industry and Information Technology has promoted scientific research on basic issues, and accelerated the compilation and publication of a map of the green and low-carbon development route of the automobile industry chain. Thus, the transformation and development of automobiles to new energy is not only reflected in the research and development of frontier technologies such as pure electric drive, but also radiated to the energy system reform such as the application of clean energy replacement in production and processing.
Photovoltaic power generation has obvious advantages
The substitution of clean energy for production and processing is familiar to all walks of life. In recent years, our country has issued a series of policies and regulations, promote the application of new energy in industrial and engineering construction, establish needs to meet conditions in manufacturing enterprises and industrial areas, and accelerate the construction of new energy projects such as photovoltaic power generation. "Project building photovoltaic power generation" has become a green energy efficient and practical way. Compared with other industries, the automotive industry has a superior business advantage in the rational distribution and use of photovoltaic power generation to promote the development trend of carbon reduction.
Some automobile industry production and processing workshop application of soft roof, color steel tile roof, as well as another office flat roof room, newly created/updated industrial plant roof network resources, which are the capital construction of photovoltaic power generation resources. At the same time, automobile companies have a wide range of transportation and logistics underground parking lots with a vast total area, which is a suitable scenario for investment in the construction of "photovoltaic underground parking lot". It can not only provide users with continuous green electromagnetic energy, but also help enterprises realize a close combination of energy utilization and comprehensively improve the efficiency of power consumption through the solution of optical storage and charging integration.
In practice, the "photovoltaic power generation" of Chery Automobile Henan factory has an underground parking lot covering an area of 100 mu, equivalent to the size of 10 football fields. In 2021, Sun New Energy tailors a new project of 8.5MW photovoltaic carshed for the underground parking lot of our factory, generating about 9.45 million KWH of electricity. The project can generate significant economic benefits through spontaneous selfpurchase and mobile phone Internet access. The underground parking lot is not only innovative in shape design, but also through the design of large span and high support, from the convenient vehicle parking, automobile production and manufacturing needs to clean up the power engineering and other aspects of the quality improvement, which is combined with Chery automobile green intelligent processing plant. This underground parking lot is the largest photovoltaic underground parking lot in Henan Province at the present stage, which is a successful case of the development trend of carbon reduction, energy saving and emission reduction in the automobile industry.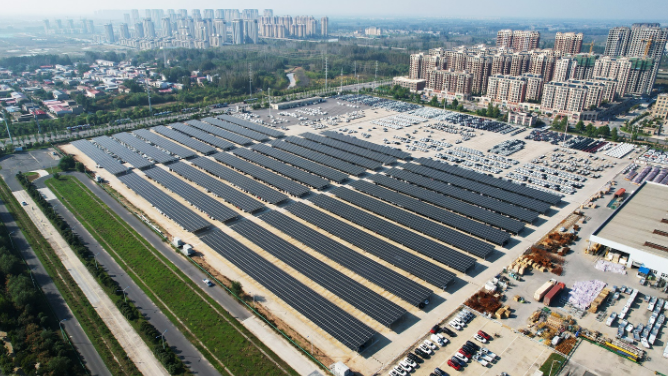 Green development creates opportunities
Zero carbon emission in manufacturing process is one of the steps of green development of automobile industry. At the same time, how to create a safe, stable and efficient natural environment for green energy use tests the software technology strength of the real estate development enterprises of photovoltaic power stations.
In 2022, Sun New Energy will release a zero-carbon solution for the automobile industry on the premise of rich and colorful project experience and deep industry insight. Based on iClean cleaning distributed power station, iBuilding Intelligent BIPV, iBlock flat-roof distributed power station and other instantiated products, the scheme makes the soft roof and color steel tile roof of the production workshop with a vast area in the automobile industry, and the whole car underground parking lot complete the composite application of network resources.
At the same time, the industry software of Sun New Energy can also produce customized "green certificate transaction solutions" for the automobile industry, providing automobile enterprises with green certificate application registration, examination and approval, trading, centralized processing and other project life cycle green certificate services.
"According to the energy use characteristics of the relatively highly integrated field of the automobile industry, Sun New Energy uses a systematic thinking to develop comprehensive industry software, rather than simply carry out the development and design of power plants. "This solution is a whole-chain, whole-process approach that can more accurately meet business needs than a single rooftop power plant, and precisely address customer energy concerns with targeted therapy." Said Zhang Yanhu, senior Vice president of Sun New Energy.
In the environment promoted by the overall goal of "dual carbon", the composite mode of "photovoltaic power generation engineering building" has many applications in the automotive industry. "A product that works in a variety of industries is key to customer success, which is to generate more power and be friendlier." Zhang Xucheng, chairman of Sun New Energy, said that a better distributed photovoltaic power station not only needs to generate electricity more efficiently, but also needs to be better integrated with engineering construction and enterprise production and management activities. "How? It's about applying technology, and that's our core competitive advantage." 'he said.
The applied technology mentioned by Zhang Xucheng refers to the enterprise's long-term scientific and technological research and development to produce efficient power generation, system integration, and project life cycle improvement. "These technologies have become a platform in their own right. "We can develop industry software for instance, including automotive, and also rely on application technology support." "He pointed out.